Key texts for module

11 items

Inside book publishing - Giles N. Clark, Angus Phillips 20149780415537179

Book Especially chapters 10, 11, & 13

Marketing: the basics - Moore, Karl, Pareek, Niketh 20100415778999,0415779006,9780415778992,9780415779005

Book

Website Represents and promotes the retail bookselling industry in the UK and Ireland and encourages best practise and excellence in bookselling.

Website The PA is the leading trade organisation serving book, journal, audio and electronic publishers in the UK. We have an educational subscription to the PA. For login details see Global publishing Information on the Library's Database list.

Website BIC is an independent organisation set up and sponsored by the Publishers Association, Booksellers Association, Chartered Institute of Library and Information Professionals and the British Library to promote supply chain efficiency in all sectors of the book world through e-commerce and the application of standard processes and procedures.

Website Exclusive news, interviews and articles about the Man Booker Prize for Fiction and the Man Booker International Prize.

Webpage International trade association for not-for-profit publishers and those who work with them.

Webpage UK library statistics.

Many publishers, both in the UK and elsewhere, have thriving social media accounts. Many pulicists and editors also have personal accounts which can provide illuminating insights into marketing and PR strategies as well as life inside a publishing house. Twitter and Instagram are particularly relevant to the publishing industry.

Creative Commons Attribution-NonCommercial-ShareAlike 3.0 Licence
Profile Required
Reading intentions and notes are stored against your user profile. Please create a profile to use this feature.
My notes
You must be logged in to add a note
What are item notes?
You can use item notes to make personal notes on any of your reading items. Notes are private to you and will not be shown to other users.
You can review your item notes from the list, the item page or from your profile page.
---
How do I create an item note?
To make notes, first you must be logged in. Once logged in, simply click Add note? next to the list item you wish to make notes on. You can also make notes at the bottom of every item's detail page.
Your note will be saved automatically as you type.
Have you read this?
You must be logged in to set a reading intention
What are reading intentions?
Setting up reading intentions help you organise your course reading. It makes it easy to scan through your lists and keep track of progress. Here's an example of what they look like: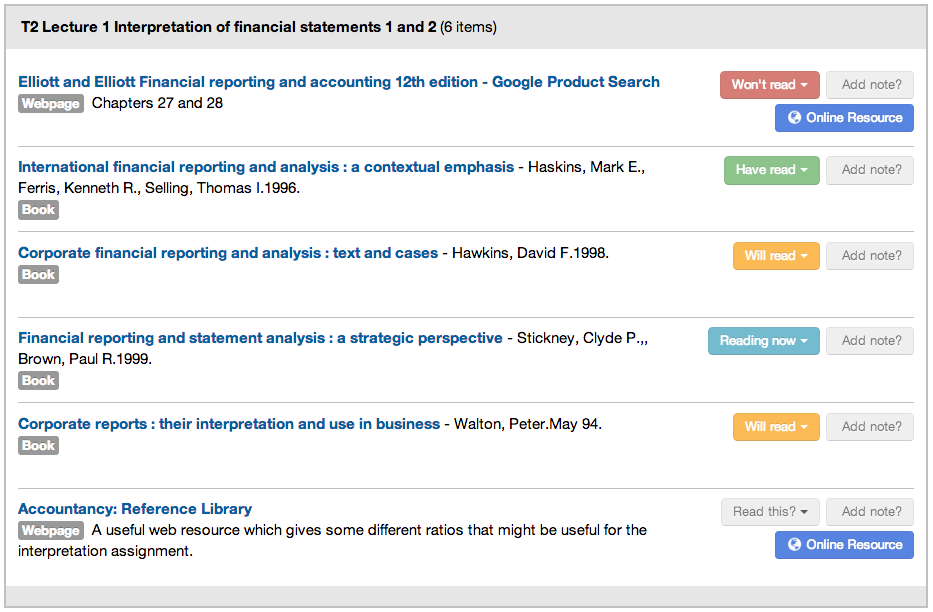 Your reading intentions are also stored in your profile for future reference.
---
How do I set a reading intention
To set a reading intention, first you must be logged in. Once logged in, click Read this? next to the list item you wish to set a reading intention for.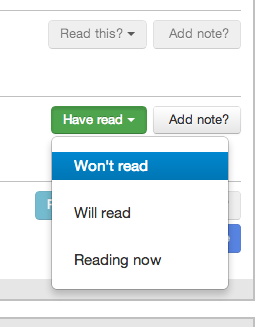 You can also set the reading intention from every item's detail page.