PGCE Primary English
Terms 1, 2 and 3
Archived
This module focuses on the pedagogical knowledge and understanding required to secure children's progress in developing language and literacy within meaningful contexts. The focus is on storytelling, reading, writing and talk for learning. Reflection on trainees' own learning in order to consider the implications for classroom practice will be a central element of the module.
This list has been archived
Required reading/key texts for this module

7 items

Suggested/supplementary reading - key reference texts

12 items

Other Reference texts

6 items

Further Reading

156 items

Grammar - Language and Literacy

24 items

Speaking and Listening

9 items

Reading - reading for pleasure, phonics, reading environments, reading comprehension

36 items

The Spider and the Fly - Mary Howitt, Tony DiTerlizzi 20120857079697,0857079700,9780857079695,9780857079701

Book

Writing under control - Judith Graham, Alison Kelly 2010 [i.e. 20090415484049,0415484057,9780415484046,9780415484053

Book

Supporting children - EAL learners

6 items

Primary Languages

14 items

Journal Formerly known as Reading Literacy and Language & Reading - see below.

Reading (electronic resource)

Journal

Children's Books Magazine

1 item

Websites - children's literature/poetry

6 items

Websites to support knowledge and understanding of other phonic programmes and teaching phonics

6 items

Creative Commons Attribution-NonCommercial-ShareAlike 3.0 Licence
Profile Required
Reading intentions and notes are stored against your user profile. Please create a profile to use this feature.
My notes
You must be logged in to add a note
What are item notes?
You can use item notes to make personal notes on any of your reading items. Notes are private to you and will not be shown to other users.
You can review your item notes from the list, the item page or from your profile page.
---
How do I create an item note?
To make notes, first you must be logged in. Once logged in, simply click Add note? next to the list item you wish to make notes on. You can also make notes at the bottom of every item's detail page.
Your note will be saved automatically as you type.
Have you read this?
You must be logged in to set a reading intention
What are reading intentions?
Setting up reading intentions help you organise your course reading. It makes it easy to scan through your lists and keep track of progress. Here's an example of what they look like: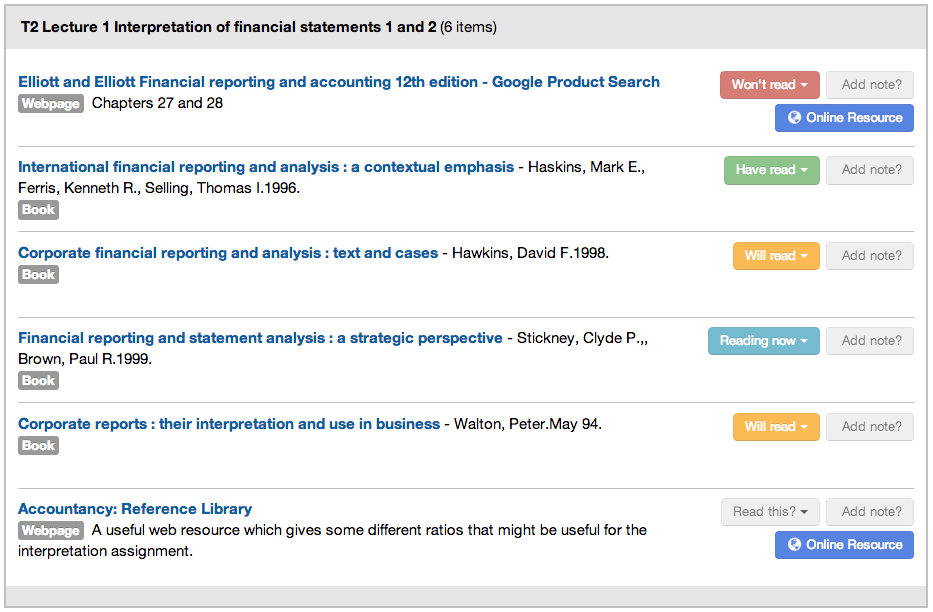 Your reading intentions are also stored in your profile for future reference.
---
How do I set a reading intention
To set a reading intention, first you must be logged in. Once logged in, click Read this? next to the list item you wish to set a reading intention for.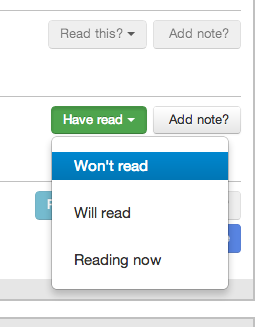 You can also set the reading intention from every item's detail page.