U67037 Special Topics (Themes): Renaissance material culture
Semester 2
U67037 is a portfolio module containing a number of possible optional courses. This Option offers an introduction to early modern material culture, focusing on the circulation of objects in Renaissance drama. Domestic tragedies were often performed in the same intimate chamber spaces which provided their settings, and their playtexts are accordingly saturated with household accoutrements. Through engaging closely with some examples of domestic tragedy, a genre which flourished briefly in England between 1600 and 1625, students will consider how early modern citizens experienced their living spaces and the ways in which life's material trappings shaped early modern identity. Seminars will explore the importance of objects such as tapestries, apostle spoons, handkerchiefs, feathers, starch and ruffs; trace the significance of material tokens such as rings, seals and letters; and consider how and why goods and money were circulating both inside and outside the home. Students will also be invited to engage with archival and manuscript sources in order to explore reading and writing as themselves densely material practices.
Cymbeline - William Shakespeare 20050521296943,0521228786,9780521296946,9780521228787

Book *Book to buy

The witch of Edmonton - William Rowley, Thomas Dekker, John Ford, Peter Corbin 19990719052475,9780719052477

Book

The Renaissance: a sourcebook - Lena Cowen Orlin 20090230001769,0230001750,9780230001763,9780230001756

Book Extracts will be provided by module leader

A Warning for Fair Women

3 items

Two Lamentable Tragedies

2 items

A Woman Killed with Kindness

7 items

A Yorkshire Tragedy

6 items

The Maid's Tragedy

6 items

The Witch of Edmonton

10 items

Creative Commons Attribution-NonCommercial-ShareAlike 3.0 Licence
Profile Required
Reading intentions and notes are stored against your user profile. Please create a profile to use this feature.
My notes
You must be logged in to add a note
What are item notes?
You can use item notes to make personal notes on any of your reading items. Notes are private to you and will not be shown to other users.
You can review your item notes from the list, the item page or from your profile page.
---
How do I create an item note?
To make notes, first you must be logged in. Once logged in, simply click Add note? next to the list item you wish to make notes on. You can also make notes at the bottom of every item's detail page.
Your note will be saved automatically as you type.
Have you read this?
You must be logged in to set a reading intention
What are reading intentions?
Setting up reading intentions help you organise your course reading. It makes it easy to scan through your lists and keep track of progress. Here's an example of what they look like: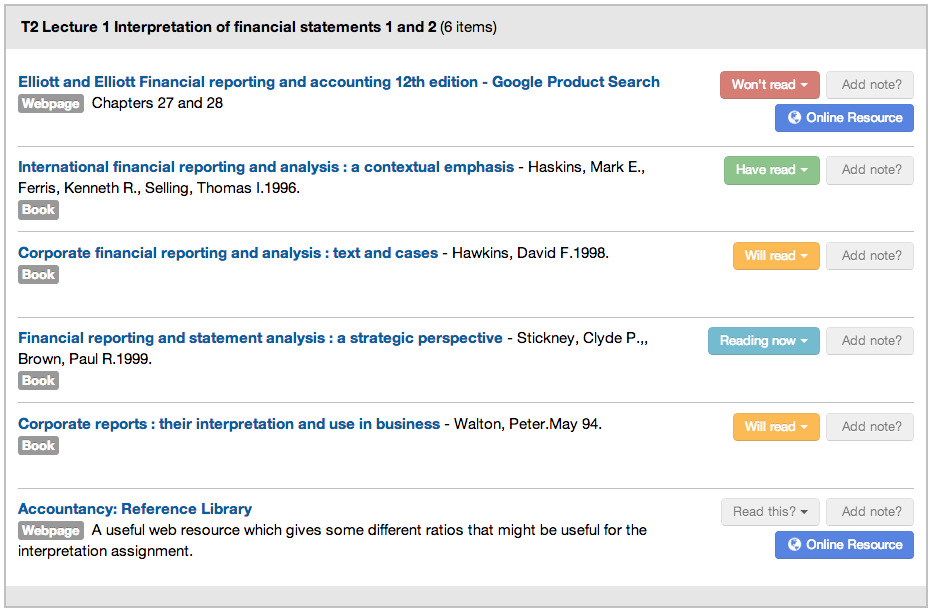 Your reading intentions are also stored in your profile for future reference.
---
How do I set a reading intention
To set a reading intention, first you must be logged in. Once logged in, click Read this? next to the list item you wish to set a reading intention for.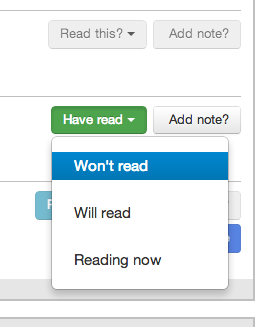 You can also set the reading intention from every item's detail page.