The following primary texts should be read by all students on the module.

Kant, Immanuel (1724 - 1804)

Kant: political writings - Kant, I., Reiss, H.S., Nisbet, H.B. 19910521391857,0521398371

Book See especially 'Idea for a Universal History with a Cosmopolitan Purpose'; 'An Answer to the Question: "What is Enlightenment"?' and Perpetual Peace: a Philosophical Sketch'.

Hegel, G.W.F. (1770-1831)

Hegel's philosophy of right - Hegel, G.W.F., Knox, T.M. 19670195002768

Book see especially 'Introduction', and then the opening parts to 'Morality'; 'Civil Society'; 'The State'.

Phenomenology of spirit - Hegel, G.W.F., Miller, A.V., Findlay, J.N. 19770198245971

Book See the 'Lord and Bondsman' / 'Master and Slave' passages.

Karl Marx (1818-1883) and Friedrich Engels (1820-1895)

The Communist manifesto - Marx, K., Engels, F., McLellan, D. 19980192834371

Book See especially chapters 1 and 2. Other editions of this work are also available in the Library.

The items above can all be found in:

Karl Marx: selected writings - Marx, K., McLellan, D. 20000198782659

Book There are also various other collections of Marx's writings you can find in the library: eg collections edited by Pierson, Tucker or Elster.

Friedrich Nietzsche (1844-1900):

Extracts from all these texts are included in:

The Nietzsche reader - Friedrich Wilhelm Nietzsche, Keith Ansell-Pearson, Duncan Large 20060631226532,0631226540

Book

The Nietzsche reader - Nietzsche, F.W., Ansell-Pearson, K., Large, D. 2006 (electronic resource)

Book

Simone de Beauvoir (1908-1986):

The second sex - Beauvoir, S.de, Parshley, H.M. 1997009974421X

Book See especially the 'Introduction', pp.13-33; and sections on childhood, pp.295-351; the married woman, pp. 425-501; and the independent woman pp. 689-715.

Frantz Fanon (1925-1961):

Black skin, white masks - Fanon, F. 20080745328490,0745328482,9780745328492,9780745328485

Book See especially the chapters 'The Fact of Blackness', and 'The Negro and Recognition'.

Recommended Textbooks:

6 items

Selected Introductory Books on the History of Political Thought

11 items

Modern political theory from Hobbes to Marx: key debates - Lively, J., Reeve, A. 19890415013518

Book This useful book brings together important articles on a range of political theorists from Hobbes to Marx and adds an introductory commentary on each of these political theorists as well as the nature of the history of political thought.

History of political philosophy - Strauss, L., Cropsey, J. 19870226777081,0226777103

Book Gives a comprehensive survey of a great number of political theorists from Thucydides to Heidegger.

The University Library has a good range of critical and historical works in this field and all students should familiarise themselves with the bibliography by examining the shelves and browsing, consulting the catalogue and taking advantage of the critical apparatus which can be found in various editions, commentaries and studies.

Selected Books on Specific Thinkers:

34 items

What follows is a select list of new mongraphs, many of them written for undergraduate students and available in inexpensive paperback editions.

Fanon: a critical reader - Gordon, L.R., Sharpley-Whiting, T.D., White, R.T. c19961557868956,1557868964,9781557868954

Book

Selected Articles and Books on Key Themes:

29 items

A number of journals taken by the Library contain articles on political theory and the history of political thought:

Journal This is a prestigious journal which has useful articles on political concepts and specific political theorists - new interpretations and readings - as well as reviews of new books from which an up-to-date survey of the field can be maintained.

Journal This is another high quality journal and it is specifically devoted to the history of political thought. Most theorists are the subject of an article in this journal.

Journal A useful feature article in the journal is Political Theory Revisited.

Creative Commons Attribution-NonCommercial-ShareAlike 3.0 Licence
Profile Required
Reading intentions and notes are stored against your user profile. Please create a profile to use this feature.
My notes
You must be logged in to add a note
What are item notes?
You can use item notes to make personal notes on any of your reading items. Notes are private to you and will not be shown to other users.
You can review your item notes from the list, the item page or from your profile page.
---
How do I create an item note?
To make notes, first you must be logged in. Once logged in, simply click Add note? next to the list item you wish to make notes on. You can also make notes at the bottom of every item's detail page.
Your note will be saved automatically as you type.
Have you read this?
You must be logged in to set a reading intention
What are reading intentions?
Setting up reading intentions help you organise your course reading. It makes it easy to scan through your lists and keep track of progress. Here's an example of what they look like: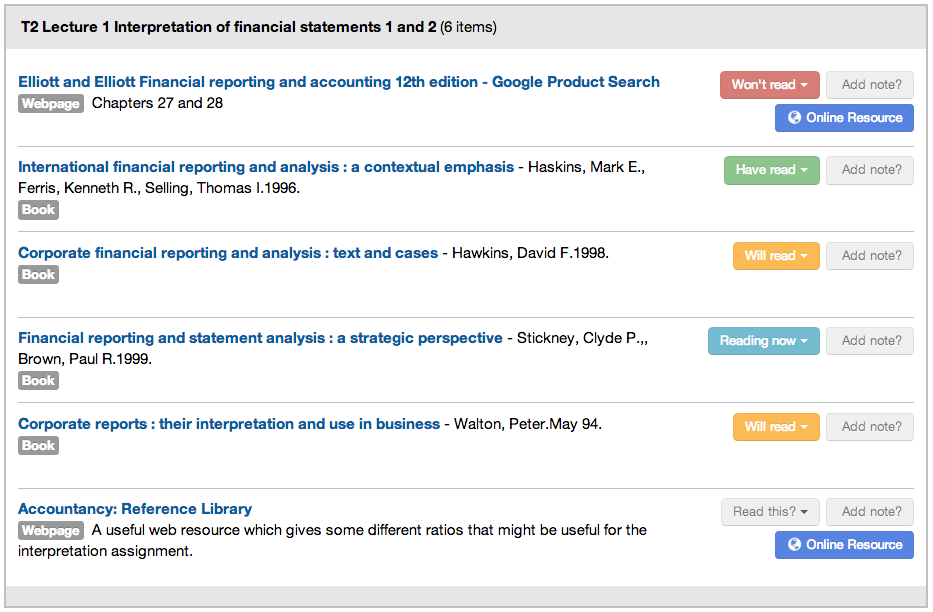 Your reading intentions are also stored in your profile for future reference.
---
How do I set a reading intention
To set a reading intention, first you must be logged in. Once logged in, click Read this? next to the list item you wish to set a reading intention for.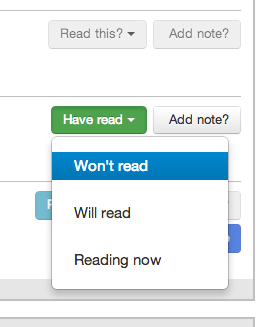 You can also set the reading intention from every item's detail page.