Mathematics
Terms 1, 2 and 3
In this module trainees will develop their subject knowledge, understanding, skills, attitudes and confidence in mathematics. They will acquire knowledge and understanding required to secure the progress and enjoyment of all their children in mathematics across the Foundation Stage and primary years. Trainees will develop their understanding of the teaching of these subjects in schools and learning will be enhanced through cross-curricular work linking mathematics with other subjects, and by promoting communication and creativity. The module will enable trainees to meet the relevant current requirements for the award of Qualified Teacher Status.
Below is the core text for this module. You are strongly advised to buy a copy of this textbook.

Recommended Texts

9 items

These are the texts that are most useful for this module in terms of subject knowledge and subject pedagogy.

Additional reading

52 items

Here are a list of texts that the library holds that are particularly useful for aspects of the module. Your MTRF contains a list of suggested additional readings/tasks. The references in this list can be found below.

Creative Commons Attribution-NonCommercial-ShareAlike 3.0 Licence
Profile Required
Reading intentions and notes are stored against your user profile. Please create a profile to use this feature.
My notes
You must be logged in to add a note
What are item notes?
You can use item notes to make personal notes on any of your reading items. Notes are private to you and will not be shown to other users.
You can review your item notes from the list, the item page or from your profile page.
---
How do I create an item note?
To make notes, first you must be logged in. Once logged in, simply click Add note? next to the list item you wish to make notes on. You can also make notes at the bottom of every item's detail page.
Your note will be saved automatically as you type.
Have you read this?
You must be logged in to set a reading intention
What are reading intentions?
Setting up reading intentions help you organise your course reading. It makes it easy to scan through your lists and keep track of progress. Here's an example of what they look like: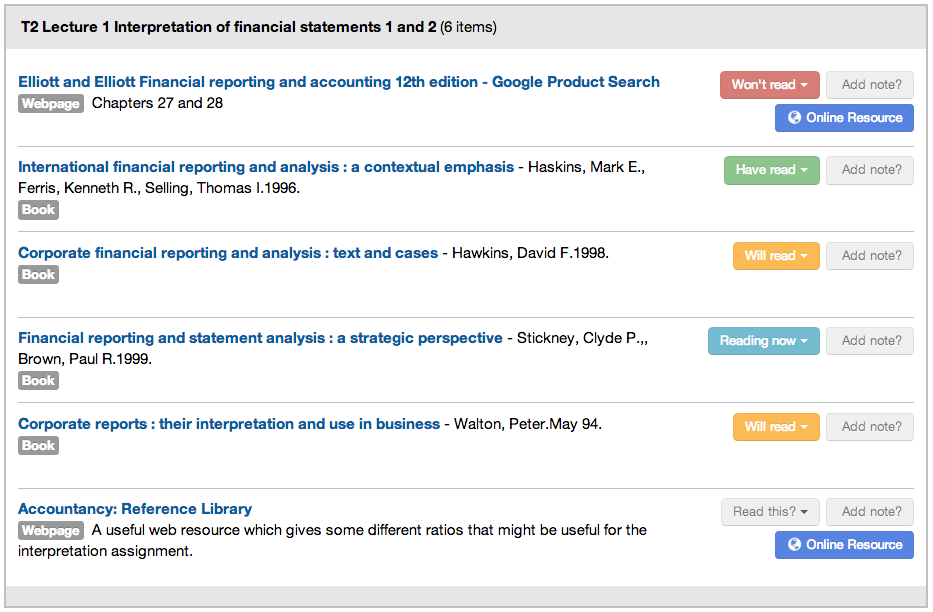 Your reading intentions are also stored in your profile for future reference.
---
How do I set a reading intention
To set a reading intention, first you must be logged in. Once logged in, click Read this? next to the list item you wish to set a reading intention for.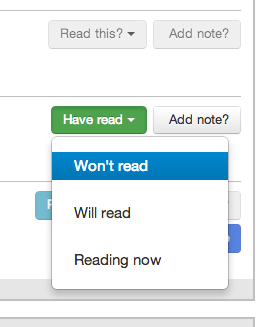 You can also set the reading intention from every item's detail page.