a. U42527 Occupational Disruption - books
Semester 1
Occupational Disruption reading list. Module description: The module starts with the exploration of concepts of occupational disruption, transition and adaptation and approaching the end of life. Students will develop their knowledge and understanding of a range of conditions and life events through: • deepening their understanding of complex conditions previously explored in Human Performance and Function module • examining explanatory theories of the subjective experience of occupational disruption • application of core occupational therapy concepts from Foundations of Occupational Therapy practice to analyse potential impacts on occupational performance and engagement.
Indicative reading list

43 items

Psychiatry - Neel L. Burton c2010 (electronic resource)

Book Essential

Psychiatry - Michael G. Gelder, Richard Mayou, John Geddes 20050198528639,9780198528630

Book Optional

Journal articles

19 items

These are key articles to read for this module.

Politics and Health - Carme Borrell, Albert Espelt, Maica Rodríguez-Sanz and Vicente Navarro

Article

Useful web resources

5 items

Creative Commons Attribution-NonCommercial-ShareAlike 3.0 Licence
Profile Required
Reading intentions and notes are stored against your user profile. Please create a profile to use this feature.
My notes
You must be logged in to add a note
What are item notes?
You can use item notes to make personal notes on any of your reading items. Notes are private to you and will not be shown to other users.
You can review your item notes from the list, the item page or from your profile page.
---
How do I create an item note?
To make notes, first you must be logged in. Once logged in, simply click Add note? next to the list item you wish to make notes on. You can also make notes at the bottom of every item's detail page.
Your note will be saved automatically as you type.
Have you read this?
You must be logged in to set a reading intention
What are reading intentions?
Setting up reading intentions help you organise your course reading. It makes it easy to scan through your lists and keep track of progress. Here's an example of what they look like: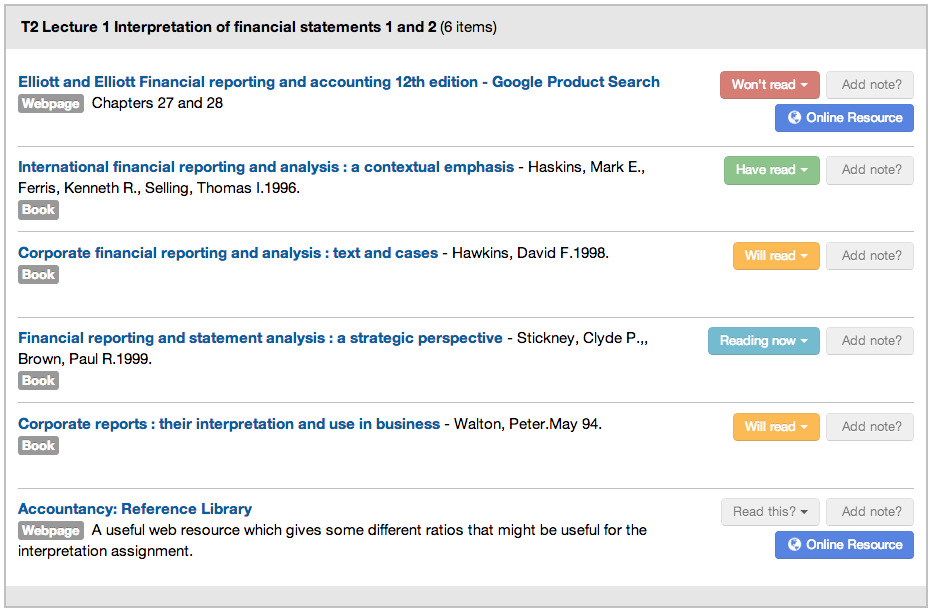 Your reading intentions are also stored in your profile for future reference.
---
How do I set a reading intention
To set a reading intention, first you must be logged in. Once logged in, click Read this? next to the list item you wish to set a reading intention for.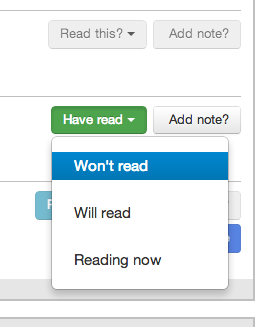 You can also set the reading intention from every item's detail page.